The Western Engineering Toboggan Team (WETT) recently finished 2nd overall in the Great Northern Concrete Toboggan Race held in Winnipeg, Manitoba. Twenty two entries from universities across Canada competed in this unique competition where teams are judged in a number of engineering categories as well as on-hill performance. 
The GNCTR is an annual competition that focuses on the engineering department's ability to design, build and race toboggans that must utilize concrete as the running surface contacting the snow.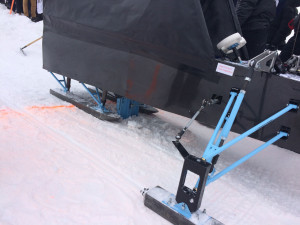 This year's team contacted KUU for advice on waxes and waxing techniques as there is little information out there on waxing concrete. After initial discussions, KUU was so impressed with the team's enthusiasm that we knew we wanted to be a part of the process. KUU supplied the team with specially formulated wax, tools and over 30 years of experience throughout the construction and testing stages leading up to the competition. "The wax was perfect for the day…It lasted the whole way and hit the exact temperature that we wanted" – Jamie Yip, WETT team member.
KUU congratulates WETT and the talented engineering students on their fantastic result in 2017. We are proud and honoured to be a part of their success story.